Our latest adition to the fleet
Lavelle Waste Services takes delivery of its latest skip wagon . The Scania XT fitted with Hyva chain lift equipment and underbody weighing from Moba will help supplement our already existing skip vehicle fleet and help maintain our high service levels to our growing customer base.
This latest adition to the Lavelle fleet is the second wagon with the latest generation Scania chassis cab. This means the vehicle is fitted with the latest health and safety features, such as: 360-degree surround cameras, lane departure, auto braking, automated banksmen warning and side scanner to protect cyclists and pedestrians. The new generation chassis cabs also boast's the most efficient engine ever produced by Scania which meets the latest euro 6 standards.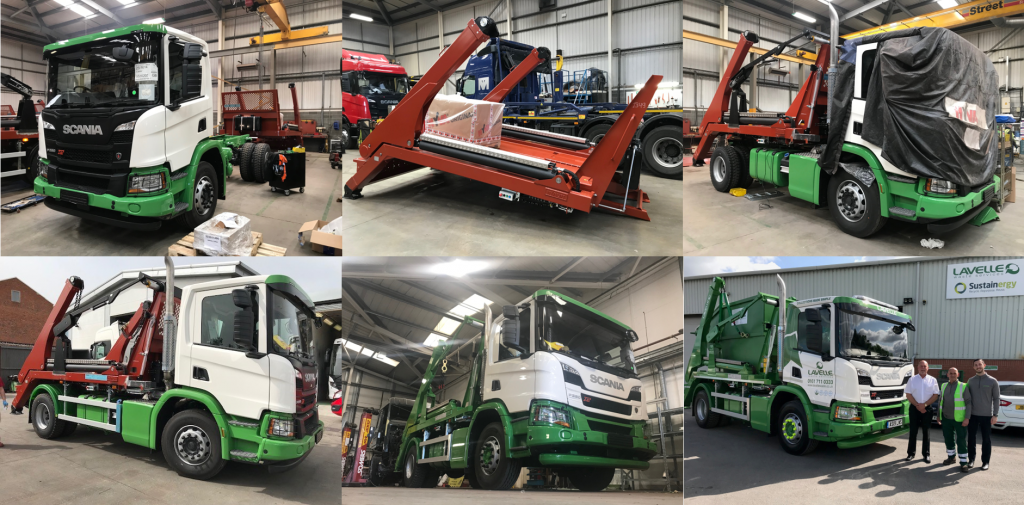 The vehicle started life in Scania's Swedish mega factory, it was then moved closer to home to Trafford park where Hyva mounted the body to the vehicle. whilst in Hyva's workshop the vehicle was fitted and calibrated with underbody weighing by Moba. Next, the vehicle was then moved to West Pennine Trucks to undergo further painting to the body. The vehicle was fitted with 360-degree cameras and side scanners. Finally, our excited, lucky and courteous team member Paul Barker was given the keys to his new truck.
The vehicle was ordered in September 2018 as we identified a need for the extra vehicle, we believe there is no other substitute to Scania trucks capabilities, performance, build quality and fuel consumption. The family have now been buying Scania's since the 1980's.
"We are very proud as a family and as a company to add an additional skip wagon to the fleet, it's a massive achievement for everyone involved and we look forward to adding more Scania's and innovative equipment to the fleet in 2019 and the near future." Craig Lavelle (Managing Director) 
"I have always welcomed the arrival of new trucks and I find myself getting more and more excited about the next one, I think new vehicles mean a lot, it shows we are prospering in our market place, it also gives me great pride when I see our vehicles around Greater Manchester looking spotless. It's something we take great pride in. We are over the moon with the new vehicle and have been impressed with everyone involved from West Pennine Truck's (Scania agent), Moba and Hyva." Sam Lavelle (Operations)

If your business requires skips, we offer a wide range of 8, 12 and 14 yard skips, open and enclosed, we offer next day delivery and pride ourselves on our service, if you require a quote then please call us on: 0161 711 0333.